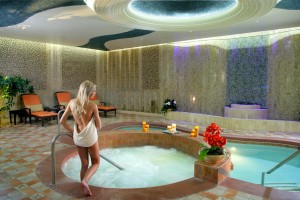 Like an oasis of water in the desert, Costa del Sur Spa and Salon is a source of replenishment and rejuvenation. We invite you to our timeless world so you can truly escape the pace of today's hectic lifestyle and enjoy the simple pleasures of letting us take care of you. In keeping with our philosophy of quality service, Costa del Sur Spa and Salon distinctive treatment menu is designed exclusively for our guests. Whatever you feel like indulging in, our professional staff is here to make every moment true perfection.
Massage Treatments 
The Costa Del Sur
Attain a higher level of relaxation by having focused work on the head, neck, shoulders, hands and feet.
50 minutes $150
Swedish Massage
Swedish massage is the staple of the Western spa. Great for the first time massage guest or just simply for relaxation, it's the ultimate muscle-tension relief. Swedish massage uses Effleurage, Petrissage, Tapotement and Friction to aid the body's internal cleansing system. 50/80 minutes $150/$200
Deep Tissue Sports Therapy
Excessive physical activity can cause deep muscular and joint distress. Our Deep Tissue Sports Therapy massage helps to warm and relax the muscles and improve range of motion. A preventative hands-on medicine, special manipulative techniques will help reduce the chances of muscle and tendon injuries. Also excellent for post-training as regular sessions will help the speedy recovery of myofascial injuries. 50/80 minutes $175/$225
Reflexology
From the ancient land of China, Reflexology is an art that has healed mind and body for over 2000 years. The technique uses pressure points on the feet that correspond to organs and systems of the body to bring balance, relaxation, and healing. This therapy can be added on to enhance any full body massage session.
25/50 minutes $100/$165
Hot Stone Massage
This treatment combines tension releasing massage technique with smooth river stones as an extension of the therapist's hands. Deep heat allows you to experience profound relaxation and balance. 50/80 minutes $175/$210
Craniosacral Therapy
Craniosacral Therapy offers physical as well as emotional relief. Perceptive to a very subtle pulsation caused by the wave like motion of spinal fluid, your therapist can detect when the "wave" or flow of energy is not moving freely. In this case, specific techniques to help the cerebral-spinal circulation will be applied to guide the body toward self-healing, a single session results in greater self-awareness and a heightened sense of well-being.
50 minutes $175
Custom Massage
Choose from any two of the following techniques to customize your massage experience: Swedish, Deep Tissue, Reflexology, Hot Stone, Shiatsu, Craniosacral Therapy and Myofascial Release. 50/80 minutes $185/$225
Cupping Massage
Borrowing from Traditional Chinese Medicine, massage cupping therapy uses negative pressure or suction to help decrease muscle pain, drain excess toxins and fluids, lift connective tissue and bring blood flow to stagnant muscles and skin. In general, massage cups will be used as an extension of the therapist's hands to facilitate the loosening of adhesions that will help improve lymphatic and blood flow. 50/80 minutes $185/$225
Body Treatments & Enhancements
Sweet Sugar Ritual
Experience a body treatment like no other. An exfoliation of whipped sugar cane crystals, sweet almond oil and a rain of warm water gently slough away dry skin cells to reveal a youthful and even skin tone, followed by a rejuvenation of the skin with healing body butter application. Shea butter and safflower oil provide intense hydration to seal in moisture while leaving the skin silky smooth. Aloe Vera and Vitamin E nourish and protect to keep skin looking radiant from head to toe. 50 minutes $160
Goddess of the Sun Ritual
The ultimate in Goddess pampering. Starting with a full body exfoliation with coconut sugar scrub. Once fully exfoliated you will then receive a hydrating body wrap with exotic nut oils from the South Pacific along with a cool stone facial massage and warmed scalp massage. This treatment brings out the Goddess in you. 80 minutes $195
Rejuvenation $280
50 minute Swedish Massage
50 minute Just for You Facial
Girlfriends Package $425
50 minute Sweet Sugar Ritual
50 minute Swedish Massage
50 minute Just for You Facial
Queen For The Day $700
25 minute Body Scrub
80 minute Swedish Massage
80 minute Oxygen Treatment Facial, Short & Sweet Manicure and Pedicure Wash and Blow with Deep Conditioning
(Price subject to change due to length of hair).
Body Quenching Desserts
Costa Del Sur Hair and Scalp Treatment*
Exotic oils and plant infusion bring back the luster and moisture loss in the hair. A deep conditioning scalp massage is performed to ease away the day. 25 minutes $50
Costa Del Sur Foot Treatment*
A foot exfoliation treatment followed by an exotic moisture application. 25 minutes $50
Farm House Fresh Body Exfoliation*
Choose from our featured seasonal Farm House Fresh Body Exfoliation treatments. Natural farm fresh ingredients and scrumptious scents make your spa experience fresh picked and delightful. 25 minutes $95
Back in Action
This back scrub is the perfect add-on to amplify that nourishment factor. A vitamin E infused water drizzle is lightly applied to the back to prep for a dazzling scrub, sure to leave the skin feeling refined. $25
Aromatherapy
Choose from: Lavender, Peppermint, Stress Relief Blend, Sinus Blend, Pain Relief Blend $20
*These add-ons can be added to any treatment. May not be received à la carte.
Couples Treatments

Private Party
Need some one-on-one time with your partner? Scrub your partner head to toe in a private steam room. Express your artistic side while painting your partner with detoxifying muds from around the world. Then enjoy parallel Swedish massages. 80/110 minutes $400/$520
Honey Do's
This is a honey do you will want to do. Spend a little quality time with your honey scrubbing each other with our amazing Pure Fiji milk and honey scrub in our private Jacuzzi tub for two, while enjoying a private soak followed by side by side Swe­dish massages. 80/110 minutes $400/$520
Tandem Massage
Enjoy a gorgeously relaxing Swedish massage in our couple's suite. You each may choose any massage to be done side by side for an additional fee. 50/80 minutes $325/$425
Couples Package – $845
50 Minute Tandem Swedish Massage
50 Minute Jurlique Facial
Farm House Fresh Manicure and Pedicure
20% Will be added to all package prices.
Mommy To Be
 Mommy's Massage
Ideal for women in their second and third trimester, designed to alleviate leg, hip and lower back pressure caused by the body's normal adjustments to pregnancy. This prenatal massage will use omega rich Mama Mio products formulated to increase skin elasticity and moisture, helping to protect against stretch marks. Mama Mio body oil will be used to bring comfort and relaxation and Mama Mio Lucky Legs Cooling Gel will help to reduce fatigue and aid the circulatory and lymphatic systems to reduce edema in the legs, feet and ankles. 50 minutes $160
Mommy's Massage & More
Start with the Mothers Massage and incorporate an exfoliation of the hands and feet using Mama Mio Scrub. This will gently buff away dry skin and Mama Mio Butter that will hydrate the skin allowing it to feel reenergized. This service is Ideal for women in their second and third trimester. 80 minutes $190
Mommy's Pedicure
This pedicure is ideal for the expecting mommy. Begin with a warm foot soak, followed by a gentle Mama Mio exfoliation, next an application of Mama Mio Lucky Legs cooling gel is applied. Body butter is then applied to seal in hydration. 50 minutes $90
Mommy's Package – $385
50 Minute Mommy's Massage
50 Minute Just for You Facial
50 Minute Mommy's Pedicure
20% Will be added to all package prices
Men's Treatments
 Men's Essential Massage
For the busy businessman or active sportsman who wants to feel his best, this massage relieves tension and encourages incredible relaxation, leaving your body invigorated and ready for the day. 50 minutes $160
Men's Body Polish
This customized treatment for men begins with an invigorating exfoliation using an uplifting lime-ginger scrub, followed by an energizing Swedish massage with a detoxifying oil to stimulate the senses, increase circulation, and relieve tired, aching muscles and joints. 50 minutes $175
Gentleman's Facial
This face treatment provides rapid results dedicated to male skin biologically, providing uniquely customized skin treatment to build skin endurance, rebalance environmentally stressed skin and deliver immediate noticeable results. 50/80 minutes $165/$225
Pairs well with a Knesko Collagen mask.
Men's Manicure & Pedicure
Start with a luxurious manicure for those dry, tired hands that are always on show that need more TLC. Treatment includes warm soak, nail grooming, and hydrating oil. Next enjoy a pedicure that is excellent for reviving tired and less-than-happy feet. A deeply exfoliating scrub and targeted foot massage tackles dryness, cracking and roughness followed by a hot towels to melt away your stress. 80 minutes $150
Men's Essential Package – $425
50 Minute Men's Essential Massage
50 Minute Gentleman's Facial
80 Minute Men's Manicure and Pedicure
20% Will be added to all package prices
Facials 
Oxygen Treatment
This treatment along with professional skin care combine powerful anti-aging ingredients, vitamins and antioxidants with multi-weight hyaluronic acid to dramatically improve the look and feel of your skin. Oxygen under pressure is applied directly to the skin's surface, cooling and calming the skin while restoring its natural vitality and glow. This rejuvenating, restoring treatment is a skin quenching treatment that applies a cocktail of vitamins and antioxidants to the skin resulting in instant hydration, improved firmness and a noticeable lift. Safe for all skin types. 50/80 minutes $220/$275
Pairs well with a collagen mask.
Tidal Wave
A true alternative to surgical rejuvenation! This revolutionary facial leaves you with firmer, smoother skin and an immediate visible lift. Long-term benefits of the enzymatic micropeel, facial massages, a cool spirulina seaweed mask and Vita Cura Opti Lift Serum helps to preserve elasticity, improve oxygenation and promote cell renewal. 50/80 minutes $215/$275
Inner Balance Gemstone Facial
This facial connects energy and relaxation to achieve perfect harmony and a healthy glow. This treatment begins with a purifying cleanse of activated charcoal and malachite gemstones pulling toxins from the skin. Next an invigorating turme­ric treatment will brighten the skin while citrine gemstones re­charge both mind and body. Your aesthetician will perform a facial massage as well as lymphatic drainage techniques with a chilled Gua Sha stones to reveal balanced and energized skin. 50/80 minutes $200/$250
Pairs well with a Knesko mask.
Berry Plump
Reveal deliciously fresh glowing skin with this hydrating facial. Much needed hydration comes from Eminence's Strawberry Rhu­barb Hyaluronic Collection. During our deep cleanse and exfoliation, potent ingredients such as botanical hyaluronic acid and vitamin rich strawberry, aid in restoring the visible signs of dehydration. To finalize this delicious treatment a pure collagen mask is the ultimate ingredient to reveal plumped and radiant skin. 50/80 minutes $195/$245
Under The Sea
Immerse your skin with the power of marine flowers. This facial dives deep in the sea to uncover precious treasures that provide ageless results. Using sustainably sourced algae extracts with potent botanical peptides to help support collagen production, this treatment smoothes the appearance of fine lines and wrinkles leaving the skin with a refreshing glow.  50/80 minutes $180/$235
Pairs well with a seaweed mask.
The After Party
This facial is truly the calm after the storm. This intense facial features a unique three layer treatment that is formulated to gently increase blood flow to the surface of the skin. Cellular de­toxification is stimulated leaving the skin repaired and renewed with no evidence of the night before.  50 minutes $170
Just For You
This facial is designed to give all skin types that special, pampered treatment they deserve, addressing your specific concerns. Choose from calm, clear or firm skin products that will leave your skin feeling hydrated and refreshed.  50/80 minutes $165/$225
The Jurlique
Using certified organic farming methods, these Jurlique facials are sure to leave you feeling refreshed and renewed. Choose from our Revitalizing Antioxidant, Hydrating Rose, or Nutri-Define Ageless facial.  50 minutes $150 all package prices
Facial Enhancements & Waxing
Each add-in $35 or two for $60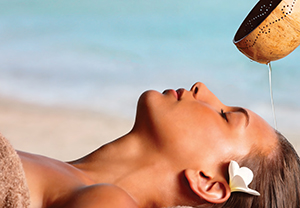 Eminence Bright Eyes Treatment
This treatment uses organic Naseberry to exfoliate the eye area allowing deeper penetration of Raspberry, Vitamin K, Cucumber and Wild Plum. These power antioxidants decrease puffiness and dark circles while increasing stimulation and hydration. Fine lines are softened and the eyes look brighter!
Eminence Lip Plumper Treatment
Enzymes of Orange and Lemon exfoliate the lip area, while Peppermint and Paprika increase stimulation, plumping the lips. Shea Butter and Hawthorn Berry deeply moisturize and repair lips for the most kissable lips ever!
Collagen And Seaweed Masks
These highly potent treatment masks offer intense hydration, plumping, healing, calming and anti-Inflammatory effects. Have your expert aesthetician help you choose which mask is most beneficial for you.
Arctic Berry And Mangosteen Peel
These organic peels are designed to minimize the appearance of fine lines, smooth skin texture, aid in clearing acne, and fade hyper pigmentation. These peels will also allow the skin to accept active ingredients within the facial for deeper penetration.
PCA Peels
PCA has a wide range of chemical peels that are ideal for all skin types. Also encouraging cell turnover, accelerated exfoliation and breakdown of surface impurities for smoother younger looking skin.
Knesko Gemstone Mask
Looking for a more youthful glow, added hydration, or age-defying enhancement? Add on any one of the gemstone-infused Knesko premier collagen masks to your service. Choose from Amethyst Hydrate, Rose Quartz, and Black Pearl.
Waxing Service Rates May Increase Based On Individual Circumstances
Full Leg……………………………………………………..$120
1/2 Leg………………………………………………………..$50
Full Arm………………………………………………………$75
1/2 Arm……………………………………………………….$50
Under Arm……………………………………………………$35
Bikini…………………………………………………………..$65
Back……………………………………………………………$80
Brow…………………………………………($25 Add-on) $35
Brow Tweezing………………………………………………$30
Lip………………………………………………………………$25
Chin……………………………………………………………$25
Brazilian…………………………………………………….$120
Chest…………………………………………………………..$60
Chest and Abs……………………………………….$85 & Up
Full Face Wax………………………………………………$100