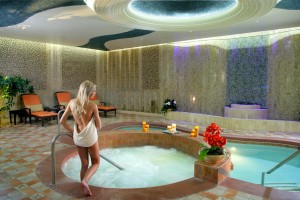 Like an oasis of water in the desert, Costa del Sur Spa and Salon is a source of replenishment and rejuvenation. We invite you to our timeless world so you can truly escape the pace of today's hectic lifestyle and enjoy the simple pleasures of letting us take care of you. In keeping with our philosophy of quality service, Costa del Sur Spa and Salon distinctive treatment menu is designed exclusively for our guests. Whatever you feel like indulging in, our professional staff is here to make every moment true perfection.
Massage Treatments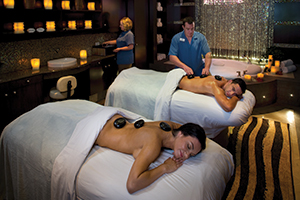 Swedish Massage
Swedish massage is the staple of the Western spa. Great for the first time massage guest or just simply for relaxation, it's the ultimate muscle-tension relief. Swedish massage uses Effleurage, Petrissage, Tapotement and Friction to aid the body's internal cleansing system. 50/80 minutes $150/$200
Deep Tissue Sports Therapy
Excessive physical activity can cause deep muscular and joint distress. Our Deep Tissue Sports Therapy massage helps to warm and relax the muscles and improve range of motion. A preventative hands-on medicine, special manipulative techniques will help reduce the chances of muscle and tendon injuries. Also excellent for post-training as regular sessions will help the speedy recovery of myofascial injuries. 50/80 minutes $175/$225
Reflexology
From the ancient land of China, Reflexology is an art that has healed mind and body for over 2000 years. The technique uses pressure points on the feet to re-balance and cleanse energy points known as meridians. This therapeutic massage may also be added on to enhance any full body massage session. 25/50 minutes $100/$165
Stone Massage
This treatment combines tension releasing massage technique with smooth river stones as an extension of the therapists hands. Deep heat allows you to experience profound relaxation and balance. 50/80 minutes $175/ $210
Craniosacral Therapy
Craniosacral Therapy offers physical as well as emotional relief. Perceptive to a very subtle pulsation caused by the wave like motion of spinal fluid, your therapist can detect when the "wave" or flow of energy is not moving freely. In this case, specific techniques to help the cerebral-spinal circulation will be applied to guide the body toward self-healing, A single session results in greater selfawareness and a heightened sense of well-being. 50/80 minutes $175/$210
Custom Massage
Choose from any two of the following techniques to customize your massage experience: Swedish, Deep Tissue, Reflexology, Hot Stone, Shiatsu, Craniosacral Therapy and Myofascial Release. 50/80 minutes $185/$225
Body Treatments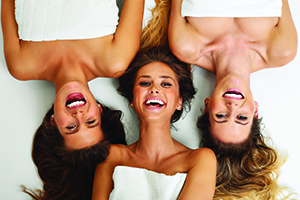 Goddess of the Sun Ritual
The ultimate in Goddess pampering. Starting with a full body exfoliation with coconut sugar scrub. Once fully exfoliated you will then receive a hydrating body wrap with exotic nut oils from the South Pacific along with a cool stone facial and warmed scalp massage. This treatment brings out the Goddess in you. 80 minutes $195
Sweet Sugar Ritual
Experience a body treatment like no other. An application of whipped sugar cane crystals, sweet almond oil and a rain of warm water gently slough away dry skin cells to reveal a youthful and even skin tone, followed by a rejuvenation of the skin with healing body butter. Shea butter and safflower oil provide intense hydration to seal in moisture while leaving the skin silky smooth. Aloe Vera and Vitamin E nourish and protect to keep skin looking radiant from head to toe.50 minutes $160
Couples Treatments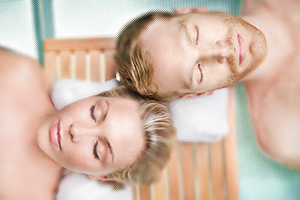 Private Party
Need some one-on-one time with your partner? Scrub your partner head to toe in a private steam room. Express your artistic side while painting your partner with detoxifying muds from around the world. Then enjoy parallel Swedish massages. 80/110 minutes $400/$520
Honey Do's
This is a honey do you will want to do. Spend a little quality time with your honey scrubbing each other with our amazing Pure Fiji milk and honey scrub in our private Jacuzzi tub for two, while enjoying a private soak followed by side by side massages. 80/110 minutes $400/$520
Tandem Massage
Enjoy a gorgeously relaxing Swedish massage in our couple's suite. You each may choose any massage to be done side by side for an additional fee. 50/80 minutes $325/$425
Body Add-Ons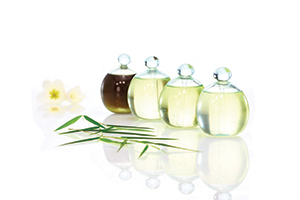 Moroccan Hair And Scalp Treatment
A rejuvenation for the hair and scalp starts with the MoroccanOil, oily or dry, scalp treatment. Formulas are blended with antioxidant-rich argan oil, essential ginger oil, lavender and geranium nourish to soothe the scalp, followed by the Intense Hydrating Mask, a rich and creamy deep conditioner, that gives the hair a dose of vitality and shine while dramatically improving hair's texture. 25 minutes $50
Moroccan Hands And Feet Treatment
An exfoliation for the hands and feet inspired by the Mediterranean seaside, the MoroccanOil Body Buff revitalizes the hands and feet using exfoliating orange peel that gently polishes away dead skin cells, followed by a luxurious application of MoroccanOil Body Butter that absorbs quickly without leaving behind a greasy residue. 25 minutes $50
Facials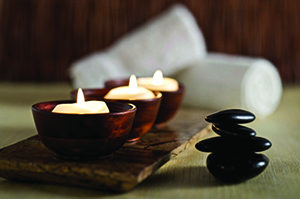 Tidal Wave
A true alternative to surgical rejuvenation! This revolutionary facial leaves you with firmer, smoother skin and an immediate visible lift. Long-term benefits of the enzymatic microgel, facial massages, a cool spirulina seaweed mask and Vita Cura Opti Lift Serum helps to preserve elasticity, improve oxygenation and promote cell renewal. 50/80 minutes $215/ $275
Skin In Bloom
Spring into freshness with this remarkable facial! A hand applied microdermabrasion polish produces radiant skin texture. The collagen mask leaves your skin feeling hydrated and firm while decreasing the appearance of fine lines and wrinkles. 50/80 minutes $195/$245
Just For You
This facial is designed to give all skin types that special, pampered treatment they deserve, addressing your specific concerns. Choose from calm, clear or firm skin products that will leave your skin feeling hydrated and refreshed. 50/80 minutes $165/$225
Oxygen Treatment
This treatment along with professional skin care combine powerful anti-aging ingredients, vitamins and antioxidants with multi-weight hyaluronic acid to dramatically improve the look and feel of your skin. Oxygen under pressure is applied directly to the skin's surface, cooling and calming the skin while restoring its natural vitality and glow. This rejuvenating, restoring treatment is a skin quenching treatment that applies a cocktail of vitamins and antioxidants to the skin resulting in instant hydration, improved firmness and a noticeable lift. Safe for all skin types. 50/80 minutes $220/$275
Facial Add-Ons
Each add-in $30 or two for $50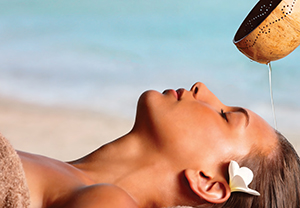 Eminence Bright Eyes Treatment
This treatment uses organic Naseberry to exfoliate the eye area allowing deeper penetration of Raspberry, Vitamin K, Cucumber and Wild Plum. These power antioxidants decrease puffiness and dark circles while increasing stimulation and hydration. Fine lines are softened and the eyes look brighter!
Eminence Lip Plumper Treatment
Enzymes of Orange and Lemon exfoliate the lip area, while Peppermint and Paprika increase stimulation, plumping the lips. Shea Butter and Hawthorn Berry deeply moisturize and repair lips for the most kissable lips ever!
Collagen And Seaweed Masks
These highly potent treatment masks offer intense hydration, plumping, healing, calming and anti-Inflammatory effects. Have your expert aesthetician help you choose which mask is most beneficial for you.
Glycolic, Salicylic Or Arctic Berry Peel
These gentle peels are designed to minimize the appearance of fine lines, smooth skin texture, aid in clearing acne, clear congestion and fade hyper pigmentation.
Waxing
Mommy To Be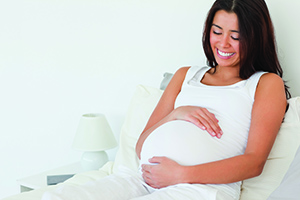 Mother's Massage
Designed to alleviate leg, hip and lower back pressure caused by the body's normal adjustments to pregnancy. This pre or postnatal massage reduces fatigue by aiding the circulatory and lymphatic systems, reducing edema and bringing comfort and relaxation. Massaging in the Aroma Sculpt Body Balm enhances the elasticity of the skin while also improving skin tone, moisturizes and nourishes the skin, leaving it silky smooth and feeling soft. 50 minutes $160
Packages
20% will be added to all package prices
For Men Only
$425
50 minute Sweet Sugar Ritual
50 minute Swedish Massage
50 minute Amora Essentials Facial
Girlfriends Package
$425
50 minute Sweet Sugar Ritual
50 minute Swedish Massage
50 minute Just For You Facial
Couples Package
$760
50 minute Tandem Massage
50 minute Just For You Facial
Short and Sweet Manicure and Pedicure
Queen For The Day
$700
25 minute Body Scrub
80 minute Swedish Massage
80 minute Oxygen Treatment Facial
Short and Sweet Manicure and Pedicure
Wash and Blow with Deep Conditioning (Price subject to change due to length of hair)
Rejuvenation
$280
50 minute Swedish Massage
50 minute Amora Essentials Facial